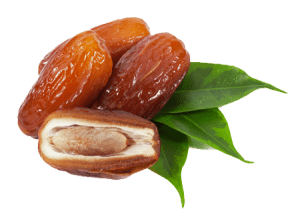 Description of date fruit
Date is a tropical monocotyledonous plant that is an edible fruit with thin skin, sweet taste and firm core. The fruits hang in large clusters from the branches and the leaves are large. The height from the ground reaches 10 to 20 meters or more
The types of dates are mainly found in Iran, Pakistan, Iraq, Saudi Arabia and other Arab countries along the Persian Gulf. And in North African countries. The United States and the Southern Hemisphere are also scattered
The unripe fruit of the date is first called pahak and after turning yellow or red, it is called Khark or Kong (and in Arabic "Hababuk"). Of course, in some places it is called Khark
Rutab is the pre-ripening stage of dates that has more moisture and less sugar than fully ripe dates.
Date fruit is a set of fruits, meaning that the entire narrow part of it is fleshy and contains nutrients. Dates have been in the human diet since ancient times and have been one of the oldest fruits grown by humans.
All kinds of dates for export
Pyaram dates in Hormozgan province and some parts of Mazafati province in Jiroft, Anbarabad and Bam Zahedi dates in Khuzestan province, Bushehr and southern Kerman province Kebab dates in Bushehr province.
Types of dates
Mazafati date, which is also known as Kimia date (this name is related to the global name of Mazafati date) and Rotab Mazafati date, is one of the dates produced in Iran. This date is widely consumed in the world due to its deliciousness and reasonable price
Mazafati dates are produced only in Iran and this date has many consumers.
Mazafati dates have different types depending on the type of cultivation place and conditions of the region. The best type and the best type of Mazafati that has the most customers is the same Mazafati in black that has a good humidity. There are also dried dates in the dry type, the color of which is almost close to burnt coffee Its humidity is usually between 15 and 35%. Foreign customers usually also like black Mazafati dates.
Characteristics of Mazafati dates
This date has an oval shape and its size is between 2.5 to 4.5 cm. This date is one of the wet dates whose skin and flesh are easily separated. The taste of this date is completely sweet and unique.
Kebab dates
Kabkab dates are one of the most famous and best-selling dates in Bushehr, Iran, which are exported to many countries. This date has a dark brown color and its oval core is known for its high adhesion to the fruit. Among the properties of kebab dates, we can mention anti-cancer, improvement of hearing, vision, treatment of low back pain, improvement of joint pain, improvement of chest pain and treatment of lung problems. This date is one of the best Iranian dates that creates the necessary energy for the body during the day This product is a great dietary supplement for quenching thirst, a huge source of iron and minerals useful for the body. It is worth mentioning that consuming kebab dates is not harmful for people with blood sugar
Kebab dates are wet or semi-dry dates that are planted in southern regions of Iran such as Bushehr. Quebec dates are known as one of the most nutritious agricultural products and despite their many benefits.
Export dates
Our company with eight years of experience in exporting date fruits to the most distant destinations,
Has a good understanding of how to better and better export dates to global markets from harvest to packaging and shipping to the desired destination are managed by an experienced and professional team
We do our best to benefit our customers. Our commitment to different quality makes our company one of the best suppliers of Iranian fruits. Dear customers, you can send your request to the company's response team and use the free technical advice of the company's experts
| | |
| --- | --- |
| Date calories | 282 |
| Total fat | 0.4 g |
| Saturated fat | 0 grams |
| Multi-unsaturated fats | 0 grams |
| Monounsaturated fat | 0 grams |
| Cholesterol | 0 mg |
| sodium | 2 mg |
| potassium | 656 mg |
| Total carbohydrates | 75 grams |
| Dietary fiber | 8 grams |
| sugar Loaf | 63 grams |
| Protein | 2.5 grams |
| Vitamin A. | 0. |
| Calcium | 3. |
| Vitamin D. | 0. |
| Vitamin B12 | 0. |
| Vitamin C | 0. |
| Iron | 5. |
| Vitamin B6 | 10. |
| magnesium | 10. |